Elton Yacht
32m sailing yacht offering great performance and amenities
ELTON Trident
Sailing yacht ELTON (ex Lunar Mist, Cinderella II) from Trident is a 31.7m/104ft sloop-rigged vessel that was built in 1992 and last refitted in 2012. Bill Tripp was the naval architect, and her hull is constructed of composite materials to reduce her draft and increase comfort and stability on board. The accommodation sleeps a total of eight guests across four en-suite cabins, with a crew of four to provide expert service on every cruise. 
EXTERIOR
The cockpit aft of amidships provides a comfortable place for guests to unwind in the sunshine or under a bimini shade, and is furnished with C-shaped sofas on both sides, the port side having a large fold-out table for alfresco dining with the whole group.
Broad sunbeds are placed behind, followed by the helm controls, which also have their own canvas shelter for use in a variety of weather conditions. The stern leads down to the swim platform, where there is a swim ladder granting access to the sea. The foredeck stores the tender, and while at anchor guests can use this space for sunbathing, observation and exercise.
INTERIOR
The lower deck hosts the guest and crew accommodation as well as the galley, with the area amidships dedicated to the lower lounge. Here, a J-shaped sofa and armchair is placed around a coffee table to port, and an L-shaped sofa and elevated table to starboard along with movable chairs. Above, there is a cosy nook to port filled with a C-shaped sofa and a table that extends outwards, perfect for coffee mornings and board games together as a family.
A pair of Kohler 27kW engines give a top speed of 12.5 knots, a cruising speed of 9 knots and a range of 1,200 nautical miles.
Yacht Charter Accommodation
While up to 12 guests can remain on board while cruising, the overnight accommodation provides for 8 guests in 4 en-suite cabins: 1 Master suite and 3 double cabins. All cabins have a double bed, plenty of wardrobe space, and a skylight for plenty of natural illumination. The Master en-suite has a bathtub with bench side and shower, plus a sink and toilet. The other en-suite bathrooms have a sink, toilet and shower.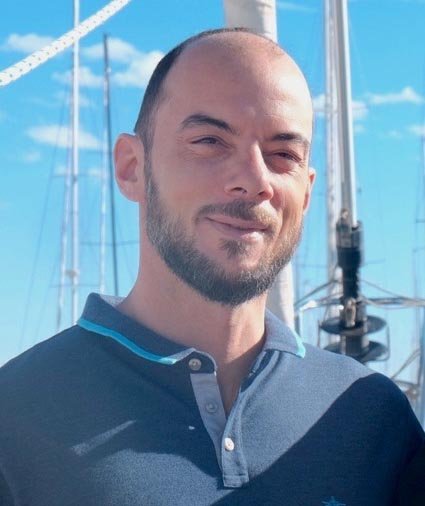 Olivier Demont
Captain - France
Calm and collected, Olivier is a laid-back personality. Born in the mountains of France, he excelled in the high-end hospitality business in the Alps before embracing life at sea.
Having travelled extensively, hitchhiking through the Sahara or crossing the Atlantic on a 10 meter boat, he is a captain who is game to explore. If you're craving a journey off the beaten track or looking forward to calling at the most exclusive ports in the French Riviera, Olivier will create a customised itinerary, making each trip unforgettably special.
Happy to share his experiences, you'll have the opportunity to handle the yacht or just enjoy relaxing on deck, in the safest environment. Olivier offers a true taste of sailing in optimum comfort.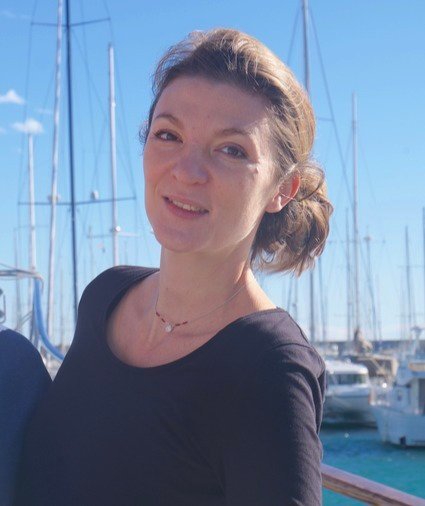 Annica Blok
Chef - Netherlands
Influenced by her childhood in Asia, Annica's style is very cosmopolitan. In a nutshell, her cuisine is satisfying, fresh-tasting and well-balanced.
As a chef she loves the challenge of using contrasts to create harmony on a plate and of adding subtle twists to classic dishes. Mediterranean and Asian cuisine are her favourites. Annica designs a menu especially for each group of guests, personalizing it to their preferences and making sure everyone is cared for.
With a love for the sea, she also has a great passion for kiteboarding and can be coaxed out of the galley to guide guests on kite sessions exploring the local waters.
Our Locations
October 2021 Cruising Mediterranean and December 2021 – April 2022. Cruising Caribbean and leave all the Locations up that are already there.